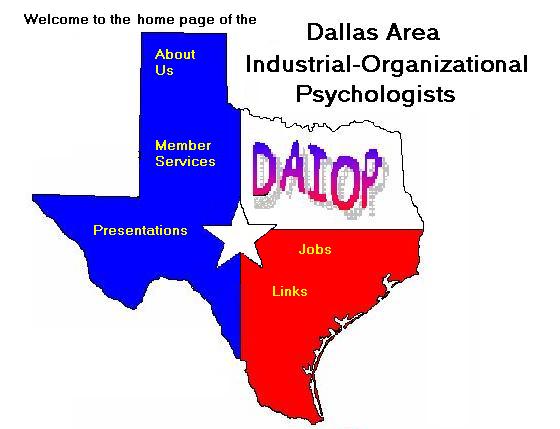 Job Opportunities (16 were available as of May 27, 2008)
The following job openings have been provided by DAIOP members and are listed as a service to DAIOP members. DAIOP assumes no responsibility for their accuracy or how current they are. All inquiries regarding a posting should be directed to the contact person indicated in the ad posting.
---
Posted on 5/27/2008

ORGANIZATION: KRONOS

LOCATION:

Beaverton, OR

POSITION:

Assessment Scientist III

CONTACT:

Brian Hottel (503) 596-5033 (brian.hottel@kronos.com)

Position Summary:

Supports development, deployment, maintenance, and documentation of employee selection solutions to ensure their design and use conform to appropriate scientific principles and findings based on applied psychological and statistical research. The Assessment Scientist will work closely with the other Science and Analytic team members as a key contributor and supporter of the selection tool and assessment development methodologies.

Practical/Technical I/O: Primary Functions:

• Develop and maintain assessment norms by conducting analyses to establish and review appropriate normative

scoring for various assessments

• Develop job qualifications and experience questions and taxonomies

• Suggest, develop, and implement process improvements related to job analysis, transportability studies,

assessment norming, and adverse impact monitoring

• Prepare assessment specifications by writing assessment specification documents and ensuring that

specifications reflect appropriate assessment practices

• Conduct job analysis activities including grouping jobs into job families, working with client subject matter

experts to establish job relevancy, documenting job analysis results, making appropriate assessment

recommendations, and obtain client approval

• Develop job analysis, assessment development, and validation study technical reports by -preparing

documentation describing the validity evidence gathered for assessment tools

• Develop, organize and maintain assessment content for staffing systems (e.g., qualifications questions,

personality scales, interview questions)

• Conduct item-analysis and additional statistical analyses to ensure individual items within specific assessments

are displaying appropriate psychometric properties

• Conduct analyses to monitor adverse impact to ensure legal compliance of assessments

• Conduct statistical analyses related to establishing criterion validity of selection tools such as calculating and

interpreting descriptive statistics, correlation and discriminant analysis, regression analysis, analysis of variance,

multiple analysis of variance, cluster analysis, factor analysis, scale reliability analysis, feature selection and

other statistical analyses

• Any employee may be required by their manager to perform any of the duties described in his/her position

description, and other duties which may be necessary or desirable and for which the employee is qualified

Practical and Technical I/O: Secondary Functions:

• Support ongoing research and development of selection tools including content development and validation

• Assist with the configuration of assessment solutions for specific client projects (e.g., configuring assessment

content for the development of custom assessments)

• Assist with training clients on how to appropriately use Kronos selection tools

• Act as an internal resource for technical information pertaining to workforce science, Industrial-Organizational

psychology and other related disciplines

• Maintain an awareness of current research literature and KTMD practices to ensure they conform to sound

scientific processes

• Participate in external activities that serve to enhance KTMD's reputation within the scientific and HR community

while contributing to the general body of knowledge on staffing and talent management practices (e.g.,

publishing papers, presenting at conferences, collaborating with academic researchers)

Primary Focus:

Position is specifically focused on tools and processes used to support development and deployment of psychometrically

based staffing assessment tools. This Scientist will work with other members of the Science and Analytics teams, and

client services groups as needed to ensure effective development, deployment, and maintenance of all Science and

Analytic related solutions. Working directly with clients is also a core requirement of the position.

Knowledge, Skills, Education and Experience Requirements:

• Ph.D. in Industrial-Organizational psychology

• Applied general expertise in personnel selection, test development & validation, behavioral interviewing,

quantitative methods

• Applied work in staffing and/or personnel fields including job analysis and staffing assessment design

• Demonstrated proficiency using database (EXCEL) and statistical software (SPSS)

• Demonstrated proficiency writing technical documents

Work Environment:

Job may require some travel to support client consulting and selection tool development and deployment.

Location:

Position is located in Kronos Talent Management offices in Beaverton, OR

Interested candidates should apply via:

www.kronos.com

If preferred, please contact Kronos recruiter, Brian Hottel with a resume/vita and cover letter:

brian.hottel@kronos.com

Phone: (503) 596-5033
---
Posted on 5/27/2008
ORGANIZATION: Center for Army Leadership
LOCATION:
Colorado Rockies
POSITION: LEAD CONSULTANT
CONTACT: Jim Brown (summitsearch@cfu.net)
Qualifications:
Customer Project Management
Heavy Client Relations Experience
Generation of New Business Opportunities (Leads)
Professional Development
Training/Selection/Survey
Heavy Customer-Care (planning, financials, solutions, etc)
Liaison-work of sorts: Heavy visibility/responsibility
Customer Maintenance
Implementation Details (on-time, error-free, accuracy, meetings, summaries,
etc)
Superior Communication Skills

Salary Range: $65K to $95 w/ Relocation


Jim Brown
Executive Recruiter
Summit Search, Inc
2806 Waterloo Road
Cedar Falls, IA 50613
319-266-3389
972-504-6304 e-Fax
Email: summitsearch@cfu.net
---
Posted on 5/27/2008
LOCATION: PA
POSITION: TESTING MANAGER
CONTACT: Jim Brown (summitsearch@cfu.net)
Requirements:

Leadership & Management Role (high visibility)
Crucial Support Role for Testing Solutions Group (and management thereof)
Quality Assurance Crucial
Delivery Process Experience (Technology, Scheduling, Communications, etc)
Business Support
Survey Experience
Test Validation – Coaching – Consulting Services
Measurement – Validation – Legal Issue Support
R&D Experience
Internet-Based HR Systems
Advanced Degree

Salary Range: is difficult (tough position to fill): $90K to $130K… plus
bonus range b/n $10K and $20K

NOTE: My client is looking beyond a "niche' candidate" of I/O – one that's
a complete and thorough package – as if there can be no weaknesses in the
listings above :-) I'm receiving excellent and expedient
communications/feedback from the hiring authority. Thanks again

Jim Brown
Executive Recruiter
Summit Search, Inc
2806 Waterloo Road
Cedar Falls, IA 50613
319-266-3389
972-504-6304 e-Fax
Email: summitsearch@cfu.net
---
Posted on 5/27/2008
ORGANIZATION: Center for Army Leadership
LOCATION: Fort Leavenworth, KS
POSITION: PSYCHOLOGIST (YA-180-02)
CONTACT: Dr. Jon Fallesen (913)758-3160 or (jon.fallesen@us.army.mil)
Center for Army Leadership (CAL)

Immediate opening for a PSYCHOLOGIST (YA-180-02) at the Center for Army
Leadership, Fort Leavenworth, KS. Conducts research using principles,
theories and findings from leadership, organizational behavior, experimental
psychology, social psychology, and training to enhance leaders' performance
and combat readiness. Immediate research areas on cross-cultural influence,
leader development, and competency measurement.

CAL's research division addresses needs and improvement opportunities for
the nearly 250,000 uniformed and civilian leaders across the Army.

CAL develops and evaluates procedures, tools, and instruction to improve the
expertise of Army leaders from evidence gathered and application of
behavioral science methods and principles. This is a permanent civil
service position. Salary starts at $77,670 - $100,976 annually.

Relocation expenses may be provided. For application to vacancy
#SWEX08616300D go to
https://cpolst.belvoir.army.mil/public/resumebuilder/builder/index.jsp

For additional information contact: Dr. Jon Fallesen (913)758-3160 or
jon.fallesen@us.army.mil
Checkout CAL's website: http://usacac.army.mil/CAC2/CAL/index.asp
---
Posted on 5/27/2008

ORGANIZATION: Marriott

LOCATION: Bethesda, MD

POSITION: Manager, Hourly Talent Management

CONTACT:

Position reports to the Director, Talent Management Analytics & Solutions. The primary responsibility is to serve as a program and research manager for the new global selection and performance appraisal systems for Marriott's hourly-paid (non-exempt) workforce. This includes the development and validation of performance standards, appraisal forms, tests, interview guides, and the integration of these tools into an automated platform. The target populations for this system are Marriott's 125,000 hourly-paid employees working within our North American Lodging Operations, as well as International Lodging, Marriott Vacation Club International and The Ritz-Carlton Company, LLC. The scope of these projects spans from initial design and development to on-going management and evaluation. The work requires strong project management skills and a background in personnel selection, performance appraisal, test development and validation, job analysis, program evaluation, and quantitative and qualitative research and data analysis.

Work Activities

§ Partner with brand and business leaders to gain first hand knowledge of business models and existing talent assessment processes and tools.

§

Conduct large-scale content and criterion-related test validity studies

§

Use job analysis results to derive and write performance standards and evaluation criteria for positions across all 300+ hourly job classifications

§

Work closely with external vendors and internal clients on the implementation and testing of the new online hourly performance appraisal system.

§ Work closely with external vendors and internal clients to develop and implement assessment tools that protect and enhance the brand and enable the achievement of the company's key success factors.

Work with external vendors to develop tests/assessments and performance appraisals.

Conduct test validity transportability and language equivalence studies.

Assist in utility and business impact analyses for selection systems and other HR-sponsored programs.

Write technical reports for research and business impact projects.

§

Develop and communicate project plans/proposals to external vendors and internal stakeholders in order to maintain on-target delivery of initiatives.

§

Serve as key customer relations manager for both internal clients and external vendors

§

Address client needs and ensure that needs are addressed in a timely and satisfactory manner.

Education/Experience:

A Masters degree in Industrial/Organizational Psychology or closely related field required; Ph.D. preferred.

Work experience: Completion of Internship in related job required; 2 years of applied experience preferred

Balanced interest/experience with both industrial and organizational psychology, including areas such as research design, assessment development, and survey research. More specifically, candidate should have experience in or have studied:

·

Personnel selection

·

Performance appraisal

·

Survey research

·

Test validation

·

Job analysis techniques and competency modeling

·

Multivariate statistical modeling (ANOVA, Multiple Regression, Structural Equation Modeling)

Skills and Competencies

·

Strong verbal and written communication and presentation skills.

·

Skilled in project management with a heightened attention to detail, time management, resource organization, and effective communication.

·

Skilled in survey design techniques; including familiarity with online survey design software (e.g., Inquisite, WebSurveyor).

·

Skilled in measurement techniques related to employee performance, personality, cognitive ability, test validation, and program evaluation.

·

Skilled with Excel and statistical software packages (e.g., SPSS, MS Access).

·

Ability to develop and maintain strong interpersonal relationships with team members, internal stakeholders and external constituents; and ability to influence change through these relationships.

·

Ability to work in a deadline-driven environment - establishing goals and delivering against the objectives of assignments to meet time, budget and quality criteria.

Attributes

·

Collaborative; team player

·

Ability to work in a fast paced and dynamic environment

·

Strong customer service orientation

·

Ability to establish credibility necessary to influence at all organizational levels

·

Analytical; makes decisions using data and business knowledge

·

Ability to communicate with and present to others at all organizational levels

·

Comfortable with complexity, ambiguity and change

·

Ability to continually identify ways to improve work process and output.

·

Trustworthy with strong business integrity and ability to hold sensitive information in confidence

·

Agile learner; able to readily apply past learning's in new situations to generate solutions to challenges
---
Posted on 5/27/2008
ORGANIZATION: NASA Johnson Space Center
LOCATION: Houston, TX
POSITION: Research Support Scientist
CONTACT: Lacey Schmidt, Ph.D. (lschmidt@wylehou.com)
Description
Research Support Scientist, I-O Psychology at NASA Johnson Space Center (JSC)

Enterprise Advisory Services, Inc. (EASI), a minority Government contractor partnered with NASA in the success of ongoing Shuttle, International Space Station and future Moon and Mars missions, has an opportunity for a skilled and motivated contributor. At Easi, we are doing what others dream of – enabling safe human exploration of space.
We are seeking a Research Support Scientist, I-O Psychology in the Behavioral Health & Performance (BHP) Section within the Human Research Program (HRP), supporting the Bioastronautics Contract at NASA JSC. The HRP performs research and technology development to support next-generation systems that enable humans to live and work safely and effectively in space, and to mitigate risks to human health and performance.
The incumbent will be responsible for coordinating with internal NASA, national and international researchers in the definition, coordination and administration of an applied research plan. To this end, incumbents will interface with NASA's internal operations and research experts as well as external investigators that are part of the National Space Biomedical Research Institute and other national and international space agencies and research organizations.
While there is extensive involvement in the research process, there is only limited opportunity to pursue your own research goals unless they are closely aligned with BHP Element requirements.
Duties and Responsibilities
·
Assist in preparing and implementing a program of behavioral research for meeting NASA's Exploration Initiative.
·
Identify the internal, national and international behavioral research and operational activities being conducted in the areas of Team Performance and Health. Assess the potential application of these activities to the BHP discipline, and engage the individuals and organizations as appropriate in meeting the goals of this discipline.
·
Assist in evaluating existing research for determining direction of future research needs of the Behavioral Health and Performance discipline.
·
Assist in identifying operational questions for research from psychologists, psychiatrists, flight surgeons and other mission operations personnel working International Space Station missions and conveying these needs to the research community via RFP's or directed research.
·
Assist in presenting program objectives and direction to a diverse audience including NASA managers as well as national and international audiences.
·
Represent the Behavioral Health and Performance Section in select, multidisciplinary working groups.
·
Conduct statistical analyses as required in support of answering operational questions.
·
Write program plans, technical reports and other scientific documents as necessary
·
Other duties as program requirements and direction dictates.
Requirements
Education/Training/Experience:
MS/MA degree + 4yrs relevant experience or Ph.D. degree + 0-2yrs relevant experience in Psychology (I/O, Human Factors, Clinical or related)
Successful project management experience
Proficiency with MS Office, MS Access and SPSS or similar statistics package
Demonstrated technical writing ability
Document procedures and methods in conformance with ISO-9000 requirements.
Demonstrated skills in organizing and managing multiple simultaneous activities.
Demonstrated ability to work independently.
Ability to work effectively in a multidisciplinary environment with changing priorities.
This position requires the ability to obtain a NASA badge. Obtaining a NASA badge requires U.S. Citizenship status.
This position carries a NASA Security Position Risk Designation of Moderate and requires the successful completion of an extensive background investigation by the Office of Homeland Security.
Desired Qualifications
·
Possess broad understanding of human factors issues and selecting, training and integrating small teams.
·
Proven ability to apply research methodology for evaluating proposals and assisting in research design is required.
·
Ability to evaluate proven or developing technologies for measuring individual and team performance.
Salary will be based on skills and experience. Interested candidates may submit their resume to:
Lacey Schmidt, Ph.D.
---
Posted on 5/27/2008
ORGANIZATION: $24B Services Company
LOCATION: Raleigh, NC
POSITION: Manager Learning & Development
CONTACT: jobs@pdasearch.net; Reference #: 1126
Please reference job numbers in subject line when submitting resumes.
Function:
Reporting to the Director, People Development, North America, this position is responsible for managing the strategic planning, implementation and continuous improvement of key learning and development programs in the North America region. Oversee new employee orientation program and competence development program. Responsible for the planning and execution of the LMS as well as internal communications for same. Budgetary responsibility.
Requirements:
A Bachelor's Degree or equivalent in Human Resources, Psychology, I/O Psych, OD, etc. Minimum of three years experience as an HR generalist or manager with an emphasis on learning/training and development. Facilitation skills and experience managing learning programs with cost responsibility and strong experience with LMS systems.
Compensation: $90K+
Relocation: Provided
Interested parties may submit their resumes to:
PDASearch, LLC
618.667.8555
800.830.6333
www.pdasearch.net
jobs@pdasearch.net
---
Posted on 02/12/2008
ORGANIZATION:
CVS
LOCATION: Woonsocket, RI
POSITION: OD Project Leader
CONTACT: Seth Kamen (sbkamen@cvs.com)
About CVS Corporation
CVS is America's largest retail pharmacy, operating more than 6,200 retail and specialty pharmacy stores in 43 states and the District of Columbia. With more than 40 years of dynamic growth in the retail pharmacy industry, CVS is committed to being the easiest pharmacy retailer for customers to use. CVS innovatively serves the healthcare needs of all customers through its CVS/pharmacy stores; its online pharmacy, CVS.com; its retail-based health clinic subsidiary, MinuteClinic; and its pharmacy benefit management, mail order and specialty pharmacy subsidiary, PharmaCare. More information about CVS is available at
http://www.cvs.com/corpInfo/about/index.html
We have an exciting opportunity to join our Organizational Development team at our Store Support Center (Corporate HQ) in Woonsocket, RI as an OD Project Leader.
Position Summary:
Advance CVS/pharmacy's strategic people initiatives as part of our Organizational Development team by designing, implementing and measuring the impact of OD solutions. Support the development and implementation of a process to measure and improve employee engagement.
Job Description:
Conduct needs analysis to determine the most appropriate solution

Design, implement and assess the impact of OD initiatives

Develop and/or deliver crisp, accurate presentations to educate leaders at all levels of the organization

Partner with OD colleagues, cross-functional internal teams and external consultants to design, build and support the flawless execution of our annual survey and action-planning process

Partner with field management to make it easy for our store employees to interpret survey results, prioritize opportunities, develop action plans and continuously improve the working environment in our stores

Integrate data from a variety of sources to support company research on how to best measure and improve employee engagement at CVS

Leverage research findings to deepen our understanding of how engagement relates to critical outcomes (e.g. employee retention, customer service, financial results)

Communicate across levels of the organization to support employee engagement work
Requirements:
2+ years practical OD experience

Advanced degree in I/O Psychology, OD, Business or related field a plus

High drive for results, integrity and initiative

Self starter with strong organizational skills and ability to manage multiple priorities

Program management experience

Strong writing, communication and influence skills

Attention to detail

Flexibility to respond quickly and accurately to changing priorities

Proficiency with Microsoft Office

Proficiency with advanced statistical software packages (i.e. SAS, SPSS) a plus
Click here to Apply and/or contact Seth Kamen at sbkamen@cvs.com
---
Posted on 02/12/2008
ORGANIZATION:
Personnel Decision International
LOCATION: Dallas, TX
POSITION:
Senior Consultant
CONTACT: (career@personneldecisions.com)
Personnel Decisions International (PDI) is a recognized leader in selecting, developing, and deploying leaders and managers at every level and a hands-on, strategic business partner to clients in many industries across the globe. It designs solutions that work globally while taking cultural nuances into account. PDI has a broad reach, and at the same time, serves as a client's local firm.
Our Consultants
PDI partners with executives and leaders in some of the world's largest companies. Our consultants help organizations develop and improve their leadership capability, and make more effective, strategic decisions about their talent. Supported by the most rigorous research and extensive normative data, our solutions have proven to be among the most effective in the industry.
Our Talent Need:
PDI's Dallas office is looking to add senior consultant talent. Successful candidates will have strong business acumen and a passion for providing a variety of consulting services for clients. Specific job responsibilities include:
· Providing consulting services such as individual assessment (including feedback and test interpretation), leadership development programs, coaching and 360 degree solutions,
· Consulting around integrated solutions and talent systems,
· Managing mid to large size PDI clients,
· Partnering with our sales professionals on developing business,
· Some travel expected
Experience and Education Requirements
· Ph.D. in I/O psychology, counseling or clinical psychology or a related discipline; would consider a Master's degree with significant human capital consulting experience
· At least five years experience in an (internal or external) human capital consulting setting
· Successful track record consulting on and delivering talent management systems
· A track record of developing business and/or influencing executives
· Considerable energy and passion for the consulting profession
Competencies
· Strong business acumen
· Creativity and motivation to partner with clients to solve problems
· Initiative and results orientation with strong bias for action
· Poise and executive presence
· Enthusiasm for the profession
· Technically sound service delivery ability in the assessment and coaching space
· Solid client management ability
· Interest and skill at working with people from multiple locations and cultures
· Ability to work effectively and thrive in a team environment
· Demonstrated interest in continuous learning and professional growth
· Flexibility
· Excellent written and verbal communication skills
Compensation and Benefits:
PDI is an equal opportunity employer committed to employing a team of diverse professionals. If you have the background that is a match for this position, we would like to meet with you. For your effort, teamwork and dedication, you will receive many rewards: A competitive compensation package in a continuously expanding market, excellent benefits and a great Las Colinas location. Be part of our talented team of professionals. If you are ready for an opportunity that allows you to grow and develop professionally, please email your resume, cover letter and compensation expectations to:
Personnel Decisions International, req: MG1487
Visit our website at www.personneldecisions.com
---
Posted on 02/12/2008
ORGANIZATION:
A
major global software services company.
LOCATION: Dallas, TX
POSITION: Vice President of Global Learning and Development.
CONTACT: Connie McDonough (connie@hunterandsage.com)
Position Summary:
The VP of Global Learning and Development will be responsible for managing and supporting the assessment of organizational needs and the design, implementation and evaluation of programs that facilitate the professional development and continuous learning of team members, particularly engineering, executives and emerging leaders within.
Duties and Responsibilities:
· Responsible for Global Learning and Development strategies and processes;
· Responsible for implementation, facilitation and creation of business unit specific training curriculum and organizational development initiatives that provide practical solutions to the client organization's needs of operating, business and functional units;
· Lead the design, development and implementation of programs, policies and strategies tailored to meet needs and program goals;
· By leading the partnering HR Directors, the qualified VP of Global Learning Development will: identify organizational gaps, development and training needs; plan, organize, and implement training and Global Learning solutions for the client groups; conduct ongoing global learning assessments to create and facilitate solutions to increase the performance of the organization.
· Evaluate strategies and programs to measure the achievement of established goals;
· Assist with the provision of expert facilitation and coaching to supervisors and managers regarding methods and tools;
· Manage the individual development planning process for executives and emerging leaders;
· Provide consultative services to the business units regarding mentoring;
· Plan and lead short- and long-term planning for programs;
· Prepare budgetary recommendations that meet departmental goals and provide for effective management of resources.
· Additionally, responsible for managing the executive talent management process to identify high-potential, high performing executives; develop and implement development programs for high-performing leaders.
Education and Experience:
· 12+ years blended experience in HR and/or training with a track record of developing & implementing enterprise wide initiatives.
· 7+ years related experience in training and organizational development. A track record of academic excellence: bachelor's degree and an advanced degree preferred.
· Experience working with organizational development for operations in a large global, organizational and/or functional business unit. Excellent change management skills.
· A track record of academic excellence: bachelor's degree and an advanced degree preferred.
Qualifications:
Attributes of the VP of Global Learning & Development include:
· Well-versed in best practices and principles of training and organizational development and effectiveness.
· Experienced in planning, organizing, supporting and facilitating a broad range of training and programs.
· Capable of assessing the development needs of a team or an organization and partnering with that organization to customize and facilitate an effective strategic intervention.
· Results-oriented, yet flexible and able to effectively function in a fast-moving, fast-changing company.
· Excellent interpersonal communication and facilitation skills, including public speaking, and the ability to work effectively with diverse clients at all levels in a large, complex, organization.
· Willingness to travel to other U.S. and global offices as necessary; prior international experience is desirable.
Contact:
Connie McDonough
832-251-4266
---
Posted on 02/12/2008

ORGANIZATION: Rapidly growing $12 billion manufacturing company. (Cummins Diesel)

LOCATION: Midwest Metro Area

POSITION: Director, Leadership Development

CONTACT: Hank Graham (hgraham@theandregroup.com)

Duties

L

ead the leadership function for the company. Develop the global leadership development strategy and implement the strategy. Consult with senior executives, work with front-line managers. Source necessary vendors, IT tools, products, and services in support of leadership development initiatives. Manage one employee.

Qualification

BS/MS plus ten to fifteen years training and development experience with strong global leadership development content. Must be strategic and tactical. Must have strong relationship skills and experience with executive suite interface and rank and file interaction.

Compensation

To 150K plus bonus plus relocation.

Contact

Hank Graham

THE ANDRE GROUP, INC.

1220 Valley Forge Road #19

Phoenixville, PA 19460

Email: hgraham@theandregroup.com
---
Posted on 01/04/2008
ORGANIZATION: Organization Wellness & Learning Systems
LOCATION: Fort Worth, TX
POSITION:
Associate
Research Scientist
CONTACT: Joel Bennet (owlsresumes@charterinternet.com)
Description
Organizational Wellness & Learning Systems (OWLS) is looking for a full-time Associate Research Scientist to lead our research and data analysis efforts.

A major goal of OWLS is to assess, design, disseminate, and commercialize evidence-based health promotion programs in the workplace. Our definition of health promotion includes programs for workers, managers, groups, and the work culture. The research function includes analysis of existing data-sets from grant-funded studies as well as from applied field consultation. As a small business, OWLS has three major functions: Research & Development, Products & Services, and Consultation & Training.
Requirements
Candidates with a strong research background and whose interests are aligned with OWLS mission are strongly encouraged to apply. The successful applicant will head up data management and analysis of two current field studies, involving multi-level, longitudinal designs. In addition, they are expected to write grant (or RFP) applications to further OWLS' research mission and support the growth of the business. Qualified applicants should have demonstrated publication potential and team leadership experience for field studies.
OWLS is interested in candidates who can balance research interests with strong interpersonal skills and desire to work in a small, self-organized team environment. PhD strongly preferred.

The deadline for applications is February 14, 2008. Projected start-date is between April 1 and May 1, 2008. This is a salaried position with starting salary range $50K to $60K.
Our office is located in Fort Worth, Texas.
Send resume, a recent example of published research, and three reference names to address below or e-mail owlsresumes@charterinternet.com. Be sure to include Research Position in the subject line of your e-mail.
OWLS MISSION: to enhance the well-being and continuous learning capacity of organizations.
Joel B. Bennett, President
Organizational Wellness & Learning Systems, Inc.
4413 Overton Terrace
Fort Worth, Texas, 76109
www.organizationalwellness.com
W: 817.921.4260
How wonderful it is that nobody need wait a single moment before starting to improve the world. - Anne Frank
---
Posted on 12/15/2007
ORGANIZATION: American Electric Power
LOCATION: Bentonville, AR
POSITION: Organization Development (OD) Consultant
CONTACT: Sarah Bodner (slbodner@aep.com)
Description
The Organization Development (OD) Consultant (or Senior OD Consultant, depending experience and background) proactively fosters partnerships within Human Resources and with assigned AEP Business Unit leaders (typically Vice Presidents and above) to develop and implement high impact organization and leadership development plans that promote the accomplishment of Business Unit and organizational goals.
Areas of contribution include leadership development, talent planning, change management, performance management, culture development, leader coaching and leadership team development. The OD Consultant ensures effective execution, implementation, follow-up and sustainability. The OD Consultant may also contribute to defining state of the art systems, strategies and processes for defined core services. Collaborates with others as part of a multi-disciplinary Human Resource team to assist in coordinating tasks, services and the provision of high quality client support.
§ Partners with the primary HR contact for the Business Unit in strategizing and delivering organization development and leadership consultation to assigned organizations.
§ Develops client partnerships with Vice Presidents, Presidents and other senior business unit leaders to develop a solid understanding of business agendas and challenges; guides leaders and other HR staff in prioritizing the associated leader and organization development priorities; consults with Business Units to match OD solutions to business objectives.
§ Ensures high impact work through skilled assessment, strategic planning, coaching, team building, leadership consultation/development, talent planning, change management and related activities.
§ Teams with others in Human Resources in the timely delivery of Human Resource services that directly support the accomplishment of enterprise-wide, corporate, Business Unit and department objectives.
§ Acts as a team member and maintains a positive relationship with management and Human Resources professionals across the company.
§ Keeps abreast of the latest business trends, tools and techniques through networking with external and internal groups and monitoring the business environment, etc.
§ Assists management teams in planning, developing, monitoring and measuring the achievement of business goals as well as human resource and organization development strategies.
§ Continually compares internal processes with those of other companies to identify improvement opportunities.
§ Manages special Organization Development projects/initiatives as needed.
§ Builds consistency, optimizes resources, and leverages best practices across the enterprise by drawing from and contributing to core Leader and Organization Development services (i.e., Talent Planning, Leadership Development, Performance Management, Change Management, and Team Development).
§ Conducts leadership coaching and team consultation (e.g., facilitates strategic business planning, goal/measure setting, operational reviews, etc.)
§ Conducts executive leadership team building and development (start-up and tune-up programs)
Minimum Requirements
Bachelor's degree in Human Resources Development, Organization Development, Business Administration, related field, or equivalent experience required. Minimum of 5 years experience in OD consulting roles along with business experience required. Master's degree in related field preferred.
§ Demonstrated ability to collaborate effectively to create customer solutions; a demonstrated ability to work collaboratively and cooperatively across organizational boundaries.
§ An appreciation for management's strategic business objectives. Ability to quickly gain an understanding of the organization's business goals and the implications for OD work.
§ Demonstrated client partnering skills (both internally and externally).
§ Demonstrated understanding and application of organization development theory and practices.
§ Demonstrated excellence in consultation, facilitation, and influence.
§ Demonstrated personal leadership ability in a fast paced, high stress business environment. Must be able to effectively manage and execute tasks with multiple competing priorities.
§ Ability to exercise seasoned judgment in decision-making and communications.
§ Results oriented with excellent problem solving skills.
§ Ability to effectively manage varied resources to complete a job. Demonstrated project management skills.
§ Demonstrated ability to adapt to change and encourage resilience in others.
§ Demonstrated proficiency in the design, implementation and consultant of the following areas: talent management, leadership development, change management, performance management and high performing teams.
§ Competent user of computer technology with emphasis on Microsoft Office desktop tools and electronic communications such as E-Mail, calendars, databases, etc.
§ Demonstrated ability to effectively interact with and influence executive management.
§ Demonstrated innovativeness and flexibility when designing and implementing solutions to meet customer needs.
§ Excellent oral and written communication skills. Ability to design and deliver presentations to broad audiences.
Please note this position could be located in a variety of locations including St. Louis, Tulsa, or Shreveport.
Up to 50% travel depending upon homebase location.
Relocation costs may be considered.
---
Posted on 12/15/2007
ORGANIZATION: Wal-Mart
LOCATION: Bentonville, AR
POSITION:
Senior Manager, Selection Strategy and Assessments
CONTACT: Amy McGlinn (amy.mcglinn@wal-mart.com)
Wal-Mart Stores, Inc. is the world's largest retailer and America's largest private sector employer. Sam Walton's chain of discount retail stores has expanded from its Arkansas origins to over 3,800 facilities in the United States and more than 2,285 units in Mexico, Puerto Rico, Canada, Argentina, Brazil, China, Korea, and the United Kingdom. With total sales in 2005 of $312.4 billion, the need for new talent at Wal-Mart Stores, Inc. has never been greater.
Description
Lead a team of consultants responsible for designing and validating all selection tools (interview questions, assessments, eligibility requirements, etc.) for all US divisions. Act as a Subject Matter Expert and provide consulting to corporate HR and business/division leaders in the areas of selection test development and validation, interview and assessment exercise development and validation, and assessment-related competency modeling. Partner with various groups to ensure all selection processes are meeting all professional and legal guidelines. Build and maintain strategic partnerships with HR Directors, functional HR leaders, and divisional business unit leaders. Ensure alignment of external vendor products with internal organizational needs.
Requirements
1. Masters in Industrial/Organizational Psychology, Organizational Development, or related field or equivalent experience
2. 3-5 years experience in developing large-scale selection strategies (selection, promotion, retention, etc.)
3. 3-5 years experience with developing and validating selection tools (interview questions, assessments, etc.)
4. Thorough knowledge of professional standards (Uniform Guidelines, SIOP Principles, etc.)
5. Demonstrated ability to consult with business leaders regarding selection strategies
6. Ability to collaborate across functional areas, influence change, and establish priorities
7. Experience in a large, complex organization
8. Excellent communication skills (written and verbal; group and individual) across all levels of an organization
9. Ability to perform effectively in fast paced, rapidly changing environment
Additional Preferred Requirements:
1. Ph.D. in Industrial/Organizational Psychology, Organizational Development, or related field
2. Experience acting as a Subject Matter Expert in litigation support
3. Experience in job analysis and competency modeling
4. Experience in retail
If you are interested in joining the Wal-Mart family, please email your resume to aamcgli@wal-mart.com or call me at 479-204-3139. I would be more than happy to assist you.
---
Posted on 12/15/2007
ORGANIZATION: Tower Perrin-ISR
LOCATION: Chicago, IL
POSITION: Associate Project Director
CONTACT: Allison Armstrong (allsion.armstrong@towersperrin.com)
Description:
Towers Perrin-ISR is an international firm. We focus on supporting the employee research needs of multinationals, where there are significant complexities created by time, distance, language, and culture.
APD responsibilities:
• Work with consultant colleagues to fill client requests for advanced data analytic support
• Translate client needs into an analytic research plan and execute that plan through research analysis.
• Design and deliver research analyses to support marketing initiatives and new services.
Requirements: PhD in the social/behavioral sciences
• Experience in common and advanced social science data analysis techniques, including factor analysis, regression (from simple linear regression to hierarchical regression and multi-level modeling), structural equation modeling, and cluster/segmentation analysis
• Experience programming statistics packages (e.g. SPSS, SAS) for data analysis
To Apply: 96901-towers@jobcoin.com
---
Posted on 12/15/2007
ORGANIZATION: eBay
LOCATION: West Coast - Bay Area
POSITION:
Director Learning and Organizational Development
CONTACT: Marti Hamlen, (250) 747-7401, (marti@hrgroupinc.com)
The Company
Our client connects over hundreds of millions of people around the world every day, empowering them to explore new opportunities and innovate together by providing the Internet platforms of choice for global commerce, payments and communications. Our client has a presence in 38 markets with revenue of $7 billion and more than 13,000 employees worldwide.
Scope
The leader of Organization Development and Learning will lead, develop and implement all organizational development and learning processes for the largest business unit in our client's organization. With revenue over $5 billion and an average growth rate year-over-year of more than 25%, this business unit has 7,000 employees in 6 primary locations throughout the world. This is a new position and the individual will be expected to design and implement initiatives to develop organizational capabilities that enable and support the business strategy. Working closely with the senior business and HR leaders, this individual will provide leadership in the area of strategy alignment and deployment, change management, team development, organization design, cultural change, leadership talent management and learning (leadership and functional). Talent management consists of needs assessment, talent acquisition, retention, development, coaching and succession planning. Additionally, this individual will coordinate and deploy corporate organizational development and learning activities and initiatives within the business unit.
Key Responsibilities
· Serve as the key point of contact for Organization Development and work with the business and HR leaders on all organization design, strategy development and deployment, systems alignment activities, talent management and learning activities.
· Design and execute initiatives to accelerate organizational and team performance specifically in the areas of growth.
· Support the business and HR leaders in building leadership capability within the organization through the talent management process. Accelerate leader effectiveness as they transition between roles and are promoted within the organization.
· Support Organization Development interventions across the organization within and across multiple sites. Drive change management and business and cultural transformation efforts.
· Develop and deploy an integrated talent management strategy which includes needs identification, acquisition, selection and assessment, executive and leadership development, and succession planning. Create staffing and development plans and programs that drive functional leadership, ensure that the right people are being hired for key positions and that the current staff is receiving the appropriate development.
· Develop and support an effective on-boarding solutions process for multiple audiences ensuring that the messages are consistent across the organization for newly acquired employees.
· Develop an organization-wide learning strategy that encompasses front line to C-level employees. Deploy learning and development resources as appropriate to support the learning and development strategy. Establish measurements systems for the learning and development strategy.
Ideal Candidate Profile
· A transformational leader with a proven track record of change and transformation in a large, growing organization in a complex industry; an individual who inspires action, builds relationships and is able to lead others and share knowledge.
· An individual who is confident, secure and self aware and does not need external reinforcement to validate their worth; an individual who is humble and understands the need to honor and validate the existing culture before attempting to make change; someone who is willing to ask questions and learn vs. telling and doing.
· Ability to contract with business clients to identify and prioritize work. An individual who thinks strategically and can establish, articulate and implement a vision for the organization as it relates to human capital.
· Comprehensive knowledge and application of organizational design and development, change management concepts, tools and methods, and leadership and talent management principles and processes.
· Practical experience providing formal/informal executive coaching and development in all areas of leadership, but particularly in change management at the individual, team and organizational level.
· Business acumen, knowledge, professionalism – understands all aspects of how a business operates, able to develop and articulate the value proposition of a new strategy, process or program. High degree of political savvy.
· Leadership, client engagement skills, influence and relationship building - an individual who can lead a large, diverse population, inspire a strong sense of camaraderie and accountability, and motivate continuous improvements in performance.
· Excellent strategic planning and operational deployment skills, the ability to integrate and align strategy, people and activities across functions, processes and teams. Able to translate vision and strategy into clear actionable goals. Strong project planning and management skills.
Experience/Education Sought
· 10-15 years Organization Development/Effectiveness experience in a medium to large, fast-paced, complex, global Company with a demonstrated history of success in leading change, client engagement, and achieving results.
· Master's degree in Business, Human Resources or related field is required.
Compensation
Compensation is low to mid $200's with equity; relocation is provided.
---